Ramadan Fasting Dua (Sehri Iftari Dua) in Arabic, Urdu, English
Posted by

Categories

Blog

Date

April 14, 2021
Introduction to Ramadan
Ramadan, or Ramadan al -Mubarak, is the ninth month of the lunar calendar in which fasting is obligatory for Muslims. Ramadan is the precious month in the Islamic calendar when Allah discloses the Holy Quran. On the glorified night of Ramadhan, Allah unveiled the Holy Quran to the heavens and the earth, so on that night, Allah almighty granted supremacy over all the nights and affirmed it as the night of Qadr and said:
لَيْلَةُ الْقَدْرِ خَيْرٌ مِّنْ اَلْفِ شَهْرٍ.  (القدر،3:97)
ترجمہ:''شبِ قدر (فضیلت و برکت اور اَجر و ثواب میں) ہزار مہینوں سے بہتر ہے."
Translation: "The night of Qadr is better than a thousand months."
Ramadan is a marvelous benison of Allah Ta'ala. This month, there is an inundation of luminosity and presents from Allah Ta'ala, which rain like torrential rain in life and hereafter. It is narrated from Anas (RA) that during the month of Rajab, the Holy Prophet (PBUH) adopt this supplication:
"اَللّٰھُمَّ بَارِکْ لَنَا فِیْ رَجَبَ وَشَعْبَانَ وبَلِّغْنَا رَمَضَانَ."
ترجمہ: اے اللہ ہمارے لیے رجب اور شعبان کے مہینے میں برکت عطا فرما اور ہمیں رمضان کے مہینے تک پہنچادیجیے، یعنی ہماری عمر اتنی دراز کردیجیے کہ ہمیں رمضان کا مہینہ نصیب ہوجائے۔
Translation: "O Allah, adore us in the months of Rajab and Shaban and make us reach the month of Ramadan, prolonging our life so that we may ascertain the month of Ramadan."
Searching for Ramadan Fasting Dua (Sehri Iftari Dua)? Indeed! You are at the ideal spot. Here! You can peruse the Duas of Sehar (Suhoor) and Iftar for fasting. Roza Rakhne ki Dua or Roza Kholne ki dua in Urdu, Hindi, and English are being shared. There are explicit Ramzan Fasting Dua (Sehri Iftari Dua) to do Niyyah toward the start and end of quick.
The reason for discussing these Dua's is to make the goal of Fast with its verbal affirmation. These Duas are an approach to showing our dutifulness to God and their orders and their recitation display that we need His pleasure in our deeds.
Meaning of Ramadan:
"Ramadan" is an Arabic utterance that means "scorching." This month was entitled because it transpired in the harsh and scorching heat when it first descended to Islam. But some scholars claim Allah Tabarak wa Taala, with His exceptional clemency, blazes and exonerates the fasting servants' transgressions this month. Therefore this month is called "Ramadan."
Sehri Dua in Urdu, English & Arabic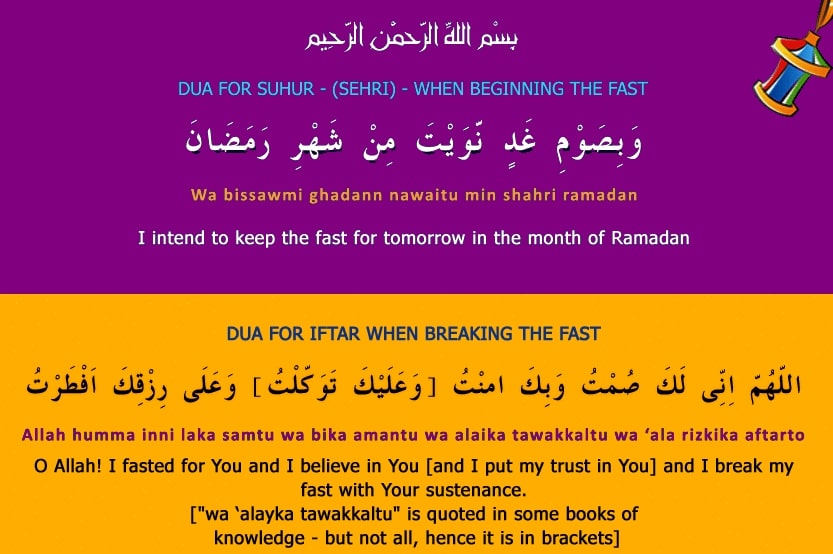 In Islam religion, there are explicit Dua' for each assignment which is recounted before doing that specific undertaking. In Arabic, we called these Dua's, Niyyah signifies 'aim'. Niyyah or Duas has incredible significance in Islam.
As Prophet (PBUH) said:
"The reward of deeds depends upon the intention and every person will get the reward according to what he has intended". (- Sahih Bukhari)
Sehri Dua in Arabic:
"وَبِصَوْمِ غَدٍ نَّوَيْتُ مِنْ شَهْرِ رَمَضَانَ"
Roza Rakhne ki Dua Urdu:
"اورمیں نے ماہ رمضان کے کل کے روزے کی نیت کی"
Sehri Niyyah in English:
"I intend to keep the fast for tomorrow in the month of Ramadan"
Iftar Dua in Urdu, English & Arabic:
Iftaar Dua in Arabic
" اللَّهُمَّ اِنِّى لَكَ صُمْتُ وَبِكَ امنْتُ وَعَليْكَ تَوَكّلتُ وَ عَلى رِزْقِكَ اَفْطَرْتُ"
Roza Kholne ki dua in Urdu
"اے اللہ! میں نے تیری خاطر روزہ رکھا اور تیرے اوپر ایمان لایا اور تجھ پر بھروسہ کیا اورتیرے رزق سے اسے کھول رہا ہوں۔"
Iftari Niyyah in English
"O, Allah! I fasted for You and I believe in You and I put my trust in You and I break my fast with Your sustenance"

Also Read: Virtues of Reciting Last 10 Surahs of Quran
The Purpose of Fasting:
The peculiar aim and subject of fasting are that through it, a person can turn around his animality and beastliness nature to obey the commandments of Allah Almighty, observe the religious and spiritual provisions, and make the craving of the self and the stomach in comparatively with the commandment of Allah.
A person should make a tendency to suppress the exigency of lust. Since this thing is one of the sole purposes of Prophethood and Shariat, fasting has been ordered in all Shariats, even though the duration of fasts and several other featured commands are specific to the Muslim ummah.
Significance of Ramadan and Fasting:
When the moon of Ramadan was being sighted, the Holy Prophet (peace and blessings of Allaah be upon him) used to say,
"This moon is of goodness and blessing, I believe in the One who created you."
Hazrat Jibril (AS) prayed that may the person get killed he who receives the month of Ramadan and cannot seek redemption, to which Prophet Muhammad (peace be upon him) said: "Amen!" We should acknowledge the importance of Ramadan from this prayer of Hazrat Jibril (AS) and the reply of Prophet Muhammad (PBUH) on this prayer. The Quran States That:
شَهْرُ رَمَضَانَہ الَّذِیْٓ اُنْزِلَ فِیْهِ الْقُرْاٰنُ هُدًی لِّلنَّاسِ وَ بَیِّنٰتٍ مِّنَ الْهُدٰی وَالْفُرْقَانِج فَمَنْ شَهِدَ مِنْکُمُ الشَّهْرَ فَلْیَصُمْهُط وَ مَنْ کَانَ مَرِیْضًا اَوْ عَلٰی سَفَرٍ فَعِدَّةٌ مِّنْ اَیَّامٍ اُخَرَط یُرِیْدُ ﷲ بِکُمُ الْیُسْرَ وَلَا یُرِیْدُ بِکُمُ الْعُسْرَ وَلِتُکْمِلُوا الْعِدَّةَ وَلِتُکَبِّرُوا ﷲ عَلٰی مَا هَدٰکُمْ وَلَعَلَّکُمْ تَشْکُرُوْنَ.(البقرۃ، 185:2)
ترجمہ: ''رمضان کا مہینہ (وہ ہے) جس میں قرآن اُتارا گیا ہے جو لوگوں کے لیے ہدایت ہے اور (جس میں) رہنمائی کرنے والی اور (حق و باطل میں) امتیاز کرنے والی واضح نشانیاں ہیں، پس تم میں سے جو کوئی اس مہینہ کو پالے تو وہ اس کے روزے ضرور رکھے اور جو کوئی بیمار ہو یا سفر پر ہو تو دوسرے دنوں (کے روزوں) سے گنتی پوری کرے، ﷲ تمہارے حق میں آسانی چاہتا ہے اور تمہارے لیے دشواری نہیں چاہتا، اور اس لیے کہ تم گنتی پوری کر سکو اور اس لیے کہ اس نے تمہیں جو ہدایت فرمائی ہے اس پر اس کی بڑائی بیان کرو اور اس لیے کہ تم شکر گزار بن جاؤ۔''
Translation: "The month of Ramadan is the month in which the Quran has been sent down, a perception for mankind, and obvious shreds of evidence to guide and discriminate between good and evil, so whoever of you observes this month must fast therein, and whoever is ailing or on a journey, he should complete the number from other days. And Allah doesn't want trouble for you, and that you may complete the reckoning and exalt him for what has hath guided you, and that you may be thankful."
Fasting is the great duty that the Lord of the Worlds has attributed to Himself, and on the Day of Resurrection, The Lord will reward it to the fasting person without any contact. There must be wisdom hidden in all the ways of worship that the Lord has prescribed for His servants. Prayer is Allah's source of salvation. In this, the person talks to his true Allah.
Fasting is also a means of loving Allah. It is mentioned in the hadeeth that Ramadan is the month of Allah, which shows that this blessed month has a striking correlation with the Lord of the Worlds, due to which this holy month is different from other months. Jabir ibn' Abdullah reported that the Prophet (peace be upon him) said: "In Ramadan, my ummah had given five things that no other prophet before me had received:
On the first night of Ramadan, Allah looks at them with mercy, and whomever Allah looks upon them, He will never chastise them.
The smell of their mouth in the evening (which is caused by hunger) is better in the sight of Allah than the smell of musk.
The angels pray for their forgiveness every night and day.
Allah commands Paradise and says: "Be adorned for My servants, and soon they will find comfort in My house and My mercy from the hardships of this world."
"When the last night of the month of Ramadan comes, Allah forgives all."
"Because of all these virtues of this blessed month of Ramadan, Muslims should make special arrangements for worship and not waste any moment."
Also Read: What are the Ten Qirats of the Quran?
Conclusion:
In this holy month, worship has been prescribed as a duty so that one can be engaged in his needs doing worship. Such a unique way of prayer is called fasting, which has been obligatory this month. Fasting is a strange worship in that a person can fast and keep his fast. He can do every work by fasting, industry, trade, and pilgrimage can do everything well.