Surah Kausar Translation, Virtues and Background of Revelation
Posted by

Categories

Blog

Date

March 6, 2023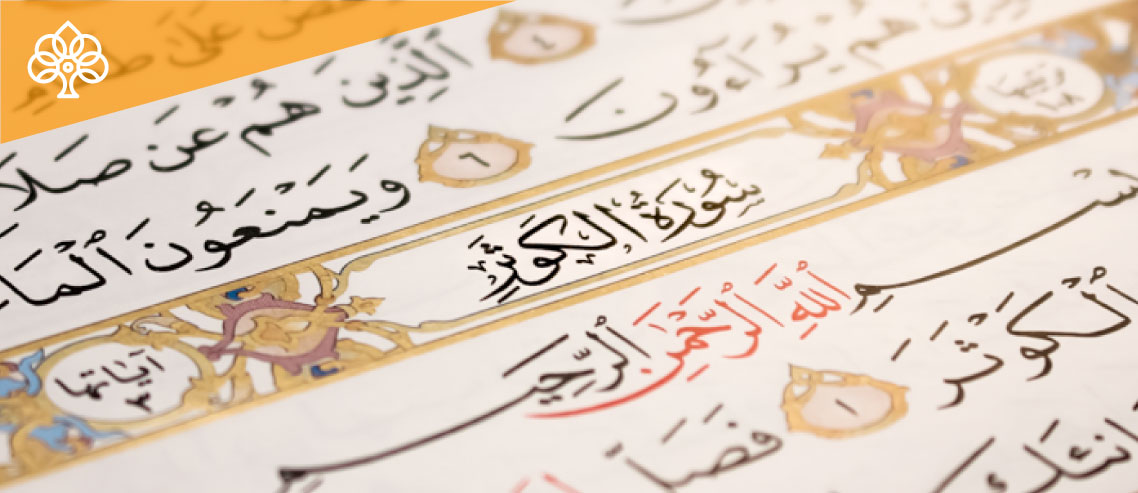 Surah Kausar is the shortest surah of the Holy Qur'an, with only three verses. It is a Makki surah which is written in the last (30th) chapter of the Quran. According to the order, this surah is the 108th surah of the Holy Quran. Surah Kausar's translation can make one able to understand the meaning and virtues that Allah has blessed His people.
Surah Kausar Translation
In this article, you can find surah Kausar translation in Arabic, Urdu, Roman Urdu, and English. So that you can understand in your preferred language.
Arabic: (.إِنَّا أَعْطَيْنَاكَ الْكَوْثَرَ(1) فَصَلِّ لِرَبِّكَ وَانْحَرْ(2) إِنَّ شَانِئَكَ هُوَ الْأَبْت(3
Urdu translation: (اے پیغمبر) بے شک ہم نے تمہیں کوثر عطا کی ہے۔ توتم اپنے پروردگار (کی خوشنودی) کے لیے نماز پڑھو، اور قربانی کرو۔ بے شک تمہارا دشمن ہی وہ ہے جس کی جڑ کٹی ہوئی ہے۔
Roman translation: Inna Aatayina Kal Kawsar. Fasalli Li Rabbika Wanhar. Inna Shaniya Ka Huww al Abtar.
English translation: (O Prophet) Indeed, we have bestowed on you the abundance. So pray to Allah Almighty (for His Happiness) and offer sacrifice. Certainly, your enemy is the one who is cut off.
Background of a Revelation:
Surah Kosar is a Makki surah, as Allah revealed this surah on Prophet Muhammad (PBUH) just before He migrated to Madina with His companions. At the start of Islam, Holy Prophet Muhammad (PBUH) faced a severe clash with His people. They didn't only not to listen to the preaching of the Prophet but became enemies. They don't follow the teachings of Islam and try their best to make the Prophet (PBUH) unfollow the teachings of Islam and Allah.
The people of Taif did their best to harden the life of the Prophet (PBUH) and His companions, but He (PBUH) stood calm and preached Islam. They don't miss any opportunity to make hurdles and bully the Prophet of Allah and His followers. But Hazrat Muhammad (peace be upon him) never gave up on His preachings, and Allah helped Him in every matter.
Also Read: Benefits, Rewards and Virtues Of Surah Al Mulk
Allah descended Surah Kausar in this regard, like other surahs, to console and encourage the Prophet (BPUH) when he lost His son, as people believe that a son can grow the family tree and be able to breed. So they used to taunt Hazrat Muhammad (BPUH) after the death of His son, saying that you cannot breed and upbringing your offspring. At that point, Allah sent this surah to tell Him not to worry about enemies.
Meaning of Surah Kausar
Surah Kausar consists of 3 verses, hence, three different scenarios, Kausar, acceptance of Allah's decision, and condolence. Now we will explain each part.
Given you Kausar:
In the first verse of surah Kosar, Allah Almighty has said that we have granted you with kousar. The wordy meaning of kausar is abundance, bounty, and plenty, which expresses that Allah will give Him much more.
In Islam, Kosar is also known as a reservoir of water about which Muhammad (PBUH) uttered:
Kausar is a canal in Paradise, both sides of which are of gold, flowing in pearls and Yakuts. Its soil is more fragrant than musk, and its water is sweeter than honey and whiter than snow. (Tirmidhi)
When the Prophet (peace be upon him) went on Meraj, he said: "I came to a canal with plumes of shelled pearls on both sides." I asked, "O Gabriel! How is this canal? They said: "This is the cistern of Kausar (which Allah has given you)." (Sahih Bukhari: 4964)
Worship Allah Almighty:
In the second verse of surah kausar, Allah ordered the Prophet Muhammad (SAWW) to be patient, offer prayers, and sacrifice for Allah's happiness. This is an order to the whole Muslim ummah to seek help from Allah through patience and prayers.
Allah has narrated in Quran:
o believers! Seek help with patience and prayer. Verily Allah is with the patient. (Al Bakra: 153)
"Anhar" means the "Camel sacrifice." Allah bestowed a lot of good upon Him and guided two things as a reward of blessings: offering prayer and sacrifice in the way of Allah.
Condolence:
In the 3rd verse of surah kausar, Allah solaced His Prophet (PBUH) on the death of His son. Unbelievers usually taunt Him(PBUH) that He cannot grow His family because He(PBUH) has only daughters. But Allah gives Him sympathy in this surah, and Allah led His offspring through His daughters and proceeded His name till Doomsday.
Allah helps those who tackle problems with patience, make sacrifices in the way of Allah, and call Allah for help with issues.
And seek (Allah's) help through patience and prayer, and indeed it is excellent, but not (for all), for the humble (whose hearts are broken by love for Allah and broken by the grace of Allah) (Al Bakra:45)
Virtues of Surah Kausar:
From the surah Kausar translation, we can easily understand the virtues and orders of Allah. There are many benefits of recitation of the Holy Quran, including surah Kosar, that no one can count.
Hadith about the virtues of Kosar:
Hazrat Anas bin Malik (R.A) narrated that:
The Prophet (peace and blessings of Allaah be upon him) called the Ansar, gathered them in a tent, and said, "Be patient until you come and meet Allah and His Messenger; I'll be at the Kosar." (Sahi Bukhari)
Wealth and prosperity:
Allah increases the wealth and prospers the person who recites the surah Kosar repeatedly.
Absolution:
This surah is helpful for those who want absolution from Allah Almighty over their sins.
Peace of mind:
A person can find peace of mind by reciting sura Kosar. It helps to keep a person calm with gratitude.
Cure for disease:
Surah Kausar is one of the most powerful surahs of the Holy Quran and is very productive in curing any disease of a person.
Long life of a child:
Scholars believe that the recitation of sura Kosar can increase the life of a newborn child.
Conclusion
In short, reciting the Quran can help a person in different ways of life, and surah Kosar is also that beneficial. The crucial purpose of reciting surah Kausar or any other sura of the Quran is to seek Allah's remission and closeness. This surah benefits cure, life, absolution, and many more for those with a strong faith. Hence, one who is unable to understand the Arabic language, should explore his knowledge and get more benefits from the Surah Kausar translation.
The reservoir of Kausar is evident and is only for those who believe and follow the preachings of Allah Almighty. Quran and Hadith both prove the presence of Kausar so that non-believers will face Allah's anger on the Day of Judgment.
When Abaid Ullah bin Ziyad asked Hazrat Abu Burza if he had listened to anything about the cistern of Kausar, then, he replied:
Yes! Not once, not twice, not three times, not four times, not five times (i.e., many times heard), so whoever denies it, May Allah not feed him from this cistern, then he went out angrily. (Sunan Abu Dawud: 4749)