Dua After Azan – Reciting This Dua is a Sunnah
Posted by

Categories

Blog

Date

April 5, 2023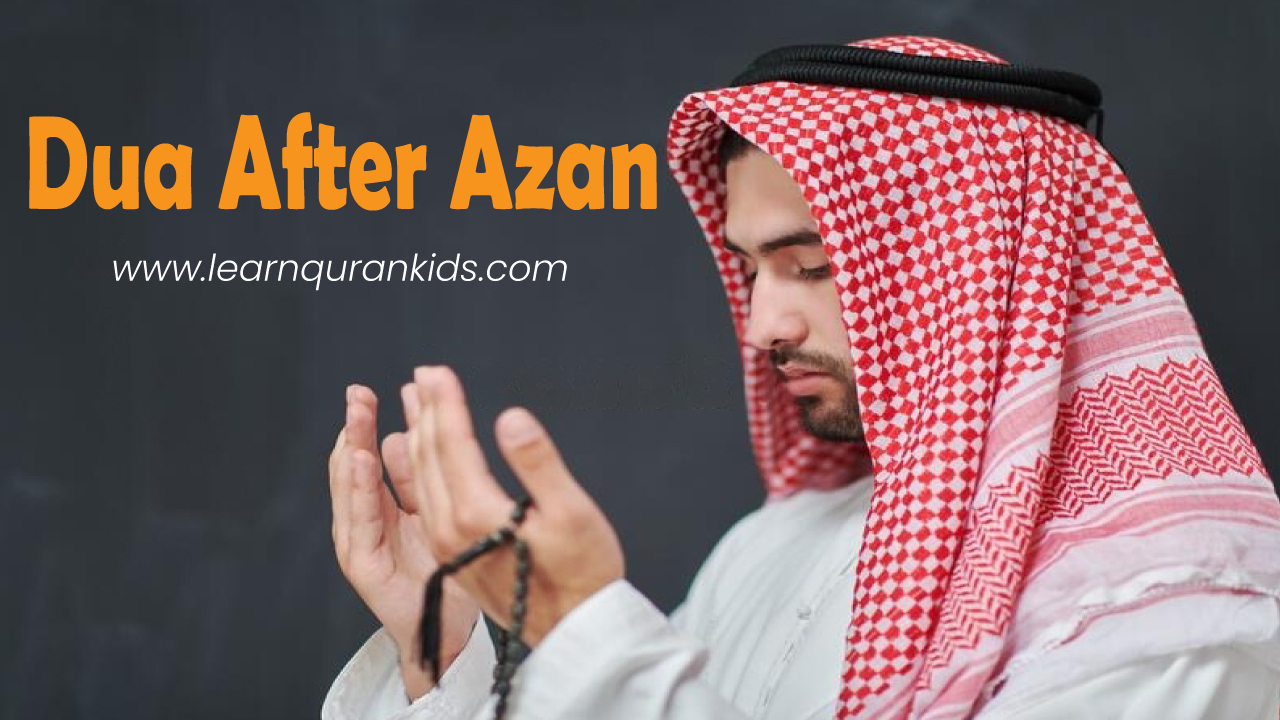 Azan is a call to invite Muslims to offer prayer. Muslims recite it aloud every day to inform the people about the time of daily prayers. Similarly, azan is given before every prayer. Azan is based on the basic teachings of Islam, which comprises witness to the oneness of Allah and the prophethood of Prophet Muhammad (SAWW). As well as a call for prayer, righteousness, and good deeds.
The person who says azan is called Muezzin. All Muslims should recite dua after azan. The muezzin recites azan at a high place in the mosque called "Mimber " and sometimes on the ground in specific situations. It is mustahabb to recite adhan and iqamah before starting the prayer. Listening, answering the call, and reciting azan dua are also obligatory.
Dua After Azan
Listening to azan peacefully, answering it, and reciting dua after azan is an essential part of Islam. Basic dua after adhan is given as:
Arabic Text: اللَّهُمَّ رَبَّ هَذِهِ الدَّعْوَةِ التَّامَّةِ، وَالصَّلَاةِ الْقَائِمَةِ، آتِ مُحَمَّدا الْوَسِيلَةَ وَالْفَضِيلَةَ، وَابْعَثْهُ مَقَاماً مَحْمُودا الَّذِي وَعَدْتَهُ، إَنَّكَ لَا تُخْلِفُ الْمِيعَادَ.
Transliteration: Allahumma Raba hazihid-dawatit-tamah, was-salatil qa'imah, ati Muhammadanil-wasilata wal-fadilah, waba-ashu maqaman mahmudan-il-lazi wa`adtahu, Innaka La Tukhliful Mii'aad.
Urdu Translation: اے اللہ ! اس پوری دعوت اور قائم ہونے والی نماز کے رب! آپ حضرت محمد کو وسیلہ اور فضیلت عطا فرمائیے اور انھیں اس مقام تک پہنچا دیجیے؛ جس کا آپ نے ان سے وعدہ کیا ہے، بے شک آپ وعدہ خلافی نہیں کرتے ۔
English Translation: O Allah! Lord of this whole calling and established prayer! Give Prophet Muhammad (SAWW) the means and virtues and bring him to the point you have promised him, for you do not break your promise.
Things to do in Adhan
There are several things to do while listening to Adhan, and Azan dua.
Stop Doing Work
A Muslim should stop working while listening to adhan as it is the Sunnah of Prophet Muhammad (SAWW). He (SAWW) told His companions and Muslim Ummah to stop working when muezzin recites azan and answer it. Then after reciting dua after azan, go for prayer.
Listen Carefully
Allah and His Prophet Muhammad (SAWW) ordered him to listen to Azan carefully and with full attention. Unnecessary talking is not allowed while adhan. Some people consider that it is the biggest sin to talk in Azan and that person will not be able to recite Kalma at his death. It is merely a rumor nothing else.
Answer to Adhan
It is mustahabb to answer adhan when the muazzin recites. After listening to the azan, going to the mosque to pray or preparing for the prayer, this answer is obligatory.
Abu Sa'id al-Khudri (R.A) reported that the Messenger of Allah (SAWW) said: "When you hear the call to prayer, answer like what the muezzin says." (Sahih al-Bukhari, Kitab al-Adhaan, Vol. 1, p. 126)
Recite Dua After Adhan
It is mandatory to recite dua after listening to the call of prayer. According to some arguments, a person can recite Kalma or a short Darood Pak, if he can't remember dua. But reciting the dua that Holy Prophet Muhammad (SAWW) mentioned, is more important and beneficial.
Can We Speak During Adhan?
There is no doubt that it is better to keep quiet at the time of azan and listen carefully to the adhan, answer it, and recite dua after adhan. But arguments show that it is permissible to talk during the adhan. For example, to teach, to address someone, or to assign a task.
According to a hadith by Hazrat Anas (R.A):
The Messenger of Allah (peace and blessings of Allaah be upon him) used to attack the enemies at dawn and listen to the call to prayer with his ears, if he heard the call to prayer, he would have stopped attacking, otherwise, he would have attacked. One day Prophet Muhammad (SAWW) listened to a person saying اَللَّهُ أَکْبَرُاَللَّهُ أَکْبَرُ, He (SAWW) said: "He is a Muslim". When he recited, أَشْهَدُ أَنْ لَا إِلَهَ إِلَّا اللَّهُ أَشْهَدُ أَنْ لَا إِلَهَ إِلَّا اللَّه ُ The Prophet (SAWW) said: "He was freed from hell". And when the people saw, he was a shepherd of goats. (Sahih Muslim, Hadith No. 382)
Virtues of Dua After Azan
Azaan is a reminder to Muslims to develop a spiritual connection with Allah. It is very important and poise to answer the call and recite dua after azan. The virtues are unlimited and some are mentioned as:
Hazrat Abdullah bin Amir (R.A) narrated that he heard from Prophet Muhammad (SAWW) saying: when you hear the muezzin saying (azan), then send blessings on me. Whoever recites durood on me, Allah will send mercy on him ten times in return. Then ask Allah for a source for me, there is a place in Paradise in which only one special servant of Allah will occupy and I believe that I am that person. So whoever asks for a means for me will receive intercession.
"Say the same as they(muezzin) say, and then when you have finished the azan, ask (Allah) and it will be given to you". (Sunan Abi Dawood)
"The prayer between azan and iqamah is not rejected". (Sunan Abi Dawood)
All these hadith prove the blessings and benefit from Allah Almighty due to azan dua.
Azan Wording
Following is the wording and repetition manner of azan wording.
اَللّٰهُ أَكْبَرُ، اَللّٰهُ أَكْبَر (2 times)
Allah is the greatest.
أَشْهَدُ أَنْ لَّا إلٰهَ إلَّا اللّٰهُ (2 times)
I bear witness that no one is worthy of worship, but Allah.
أَشْهَدُ أَنَّ مُحَمَّدًا رَّسُولُ اللّٰهِ (2 times)
I testify that Muhammad (SAWW) is the messenger of Allah and was sent by Him.
حَيَّ عَلَى الصَّلَاةِ (2 times)
Hurry up for prayer.
حَيَّ عَلَى الْفَلَاحِ  (2 times)
Hurry towards salvation.
اَللّٰهُ أَكْبَرُ، اَللّٰهُ أَكْبَرُ
Allah is the greatest. Allah is the greatest.
لَا إلٰهَ إلَّا اللّٰهُ
No one is worthy of worship, but Allah.
In the fajr prayer, following phrase is added after حَيَّ عَلَى الْفَلَاحِ,
اَلصَّلَاةُ خَيْرٌ مِّنَ النَّوْمِ (2 times)
Prayer is better than sleep.
Conclusion
Azan is basically a reminder to Muslims about the basic purpose of life. It is to submit oneself to the will of Allah. Dua after Azan offers great benefits for its readers. When one is busy with worldly life and its affairs, azan serves as a reminder to Muslims. It reminds them that there is nothing more important than the command of Allah. What's more, it's the only way you can achieve eternal success.
With all the virtues of azan and iqamah, azan dua brings more. It makes a strong connection between Allah and the people and becomes a source to get his absolution. Hence, a person should always recite dua after adhan for great rewards.